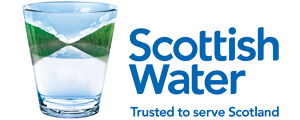 Scottish Water
The Glasgow Business Award for Sustainable Development
We look after Scotland's most precious natural resource. Scottish Water is trusted to keep its customers supplied with world-class water and care for the environment 24/7. We are one of the UK's top performing water companies dedicated to providing our customers with the best service possible. 
Our services are vital to over 2.6 million homes and more than 159,000 business premises. We are responsible for over 2,000 water and waste water assets and an underground pipe network more than 60,000 miles long. As such, we are one of the biggest energy users in Scotland and we know how vital it is for us to play our part to tackle climate change. 
Our ambitious routemap to net zero will see us undergo sweeping transformation. Whilst continuing to deliver excellent service and great value to our customers, we will change our behaviours and influence others to do the same. We will focus on becoming more energy efficient and embrace low carbon construction, whilst continuing to invest in renewable power technologies at as many of our sites as possible. 
For more information on Scottish Water, visit their website.