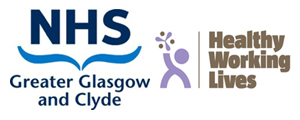 NHS Greater Glasgow and Clyde
The Glasgow Business Award for Health and Wellbeing
NHS Greater Glasgow and Clyde are delighted to once again be working with Glasgow Chamber Of Commerce sponsoring the Health and Wellbeing category of the Glasgow Business Awards after what has been a very busy and difficult time.
Being an accredited Living Wage employer and one who recognises that whilst work is good for you this work has to be good work and fair work, sponsoring this award category further recognises the importance of this.
The role of the Employment and Health team within NHSGGC is to support employers to create the safest and healthiest working environment for their employees and develop frameworks that they can use to engage in staff health and wellbeing activities and programmes. They do this in several ways including the delivery of the Healthy Working Lives [HWL] award, workplace training, Health and Safety guidance and support, policy development and workplace health programmes. Employers engaging in staff health create a happier workforce and reap benefits such as higher productivity, lower absence rates and greater retention of staff.
Whilst the HWL award is on hold at present due to the re-assignment of some of the national team to Covid 19 support work you can access many workplace tools, support and guidance by visiting the website at: https://www.healthyworkinglives.scot/  there is also an opportunity to engage in some online workplace health and wellbeing/health and safety training on their Virtual Learning Environment. To access please click here https://learning.publichealthscotland.scot/
Our local Employment and Health team can offer expert advice and support around staff health and wellbeing as well as health and safety. To get in touch you can call us on 0142 201 4860. Please leave a message and someone will return your call or email us on: healthyworkinglives@ggc.scot.nhs.uk
The team have also developed a suite of workplace health and wellbeing and health and safety webinars, training and awareness raising sessions delivered through video conferencing. These will support employers and employees as we recover and return to our "new normal". These sessions are free of change.
To access the list of trainings/webinars and find out more please click here.
To keep updated with our current training offers and other interesting workplace health information why not subscribe to or monthly e-newsletter by clicking here.
We look forward to hearing from you.                                                                                        
Looking to become more active? Why not visit NHSGGC's Live Active page. This service offers a range of activities for all levels of fitness. To find out more and access local information visit https://www.nhsggc.org.uk/your-health/healthy-living/get-active