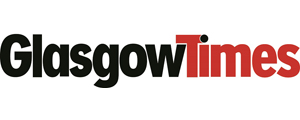 Glasgow Times
Glasgow Times Award for Glasgow's Favourite Business
Glasgow Times has proudly kept the people of Glasgow informed about everything happening in the city for more than 140 years. 
More than 1.5 million people enjoy our print and online editions every month, served with the latest news, business, sport and entertainment. 
Glasgow Times has been a media partner of The Glasgow Business Awards for more than a decade and is proud to sponsor the Glasgow's Favourite Business category. 
The winner of this award is voted for by the public, with previous winners including: Auchentoshan; The Pavilion Theatre; Slater Menswear; The Q Club; Barrhead Travel; Glasgow Taxis; Glasgow Credit Union; The Business Incentives Group; Pets 'n' Vets Family; Mono; Tam Shepherd's Trick Shop, Dear Green Coffee Roasters, SWG3, The Good Spirits Co and Glasgow Science Centre.
Celebrating the city's business sector and traders is an essential part of what the Glasgow Times does and helps keep Glasgow at the economic heart of Scotland. 
We are once again privileged to be part of The Glasgow Business Awards.
For more information on Glasgow Times, visit their website.