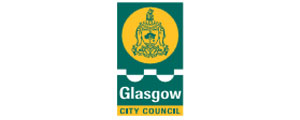 Glasgow City Council
The Glasgow Business Award for Fair Work (1-50 employees)
The Glasgow Business Award for Fair Work (51 employees or over)
Glasgow City Council is Scotland's biggest local authority, providing services to a growing population of 621,000 with the ultimate aim of ensuring the city is an attractive place in which to live, work, study, visit and invest.
Glasgow is Scotland's commercial capital, economic powerhouse and is one of Europe's top 20 financial centres. Another key economic strength is the city's retail sector: Glasgow is the top retail centre in the UK outside of London's West End.
The Council and its arms-length external organisations supply essential services such as nursery, primary and secondary schooling, social work, cleansing, planning, environmental health, business support, community safety, roads and parks maintenance and home care to the people of Glasgow.
Other areas of activity that develop Glasgow's profile, economy and quality of life include the city's outstanding art galleries and museums, leisure centres, apprenticeship programmes, regeneration and technology projects and work to attract jobs, business and investment to the city.
The Council works with many different partner organisations including Glasgow Chamber of Commerce, Scottish Enterprise, Greater Glasgow and Clyde NHS, public sector organisations, educational institutions and the private and voluntary sectors to help make Glasgow the strong, innovative and international city that it is.
The successful hosting of the Glasgow 2014 Commonwealth Games leads many to look forward to this summer's European Championships as another celebration of world-class sport to be hosted in the way that only the city can. The Glasgow City Region City Deal will transform the landscape in many areas of the city now and in the years to come, and will help to deliver the inclusive economic growth that is a fundamental priority for the Council.
For more information on Glasgow City Council, visit: www.glasgow.gov.uk