Allied Vehicles £2,500 donation will have 'major impact' on homeless charity
12 May 2022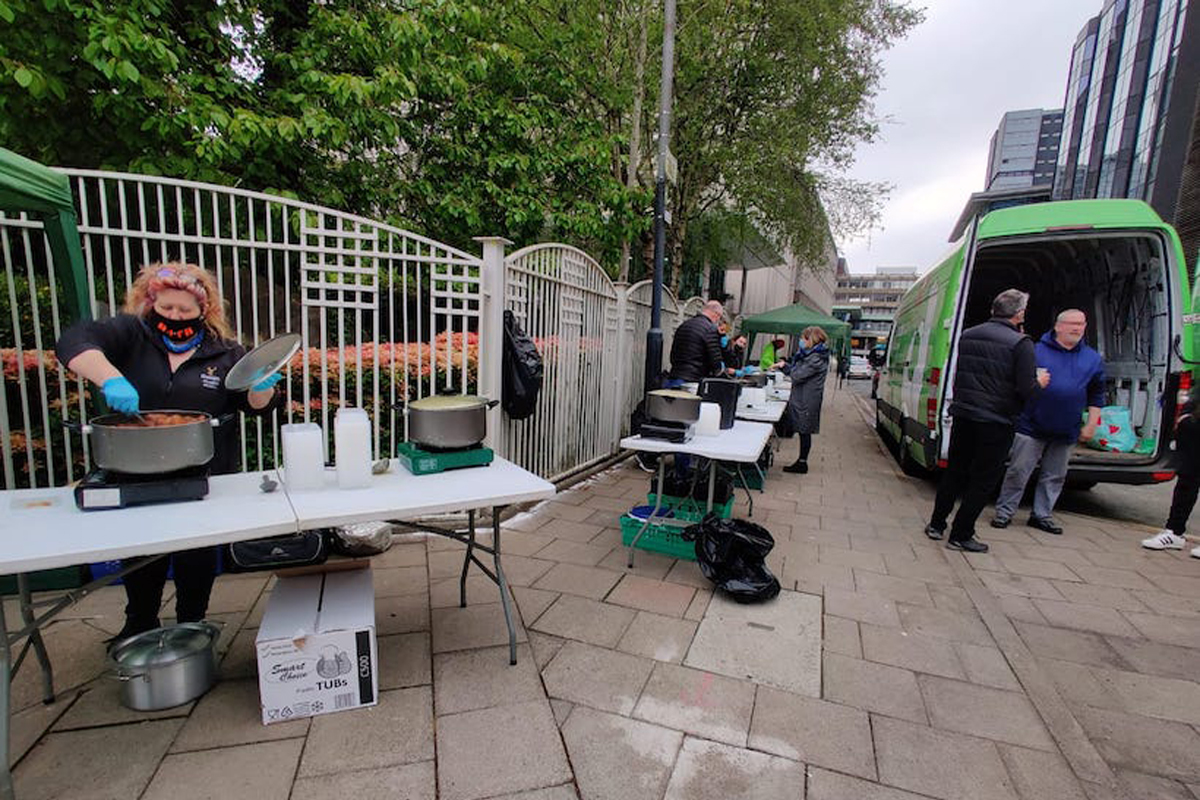 A donation of £2,500 from Allied Vehicles Charitable Trust will have a "major impact" on services provided by H4TH, a volunteer-run charity helping homeless people in Glasgow.
Friends Mel Whitley and Mikaela McCormick started H4TH, Help for the Homeless seven years ago when they decided to forego mutual Christmas gifts and give the money they would have spent to a charity that had advertised for donations to provide festive dinners for homeless people in the city.
She was then contacted by a friend to help with similar work they were doing with a homeless group in Cadogan Street.
"I made about 100 rounds of sandwiches and a flask of soup … and we had clothes and toiletries and things in the car," said Mel.
"Within five minutes there was no food left – it was gone. We were there for hours though, talking to people; it was a nice atmosphere."
Emmaus Glasgow supported the soup kitchen and Mel got to know the staff there.
She recalled: "On my first week at the soup kitchen, I met a chap who needed some clothing. It was -6°c and he needed some big clothing. When I got back the following week, I had brought him some stuff but unfortunately, he had passed away through hyperthermia.
"He was only about 30, I was so devastated. I thought 'who wants a sandwich when it's minus six degrees?'
"I was so angry. The following week I took a camping stove, a table and I did a pot of stew, and I had a hot box with hot pies and sausage rolls."
So H4TH was born. Since then, Mel and the team have provided as many as 750 meals in an evening and, in times of lockdown or other Covid restrictions, their street teams have undertaken hot food runs.
They started accepting donations from restaurants at the start of the pandemic and began a sharing arrangement with Emmaus Glasgow.
With support from a range of restaurants and supermarkets including Nando's, Morrison's, Tesco, Social Bite and local staff from computer giant Dell, H4TH is now much more than a soup kitchen. They dispense meals to all who need them, including local families who receive food parcels, clothing, and children's Christmas presents, as well as helping former homeless people furnish their new-found accommodation. 
Mel said: "I get the biggest satisfaction from just knowing that I'm reaching out and helping people that don't have the support network that I've been lucky enough to have. The donation was a welcome and lovely surprise. It will make a huge impact on what we can achieve.
"It will support all of our work at the soup kitchen, in our Community Shop, with the food parcels and food sharing we do across Glasgow.
"Also, it will help with our ability to get people the furniture and household items they need.
"Last, but not least, are the community cupboards we have in three schools where children and families can access food to take home."
David Facenna, Allied Vehicles Corporate Culture Director, said H4TH was fulfilling a vital community role in Glasgow.
"The story of Mel and Mikaela, and how they have grown H4TH from the gem of an idea into such a force for good is an inspirational and heart-warming one.
"With the escalating cost of living affecting everyone, our charity committee was only too happy to make our donation to such a deserving cause helping some of society's poorest people."