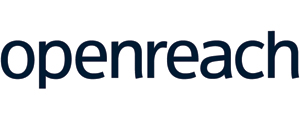 Openreach
The Glasgow Business Award for Best Performing Large Business
Openreach is Scotland's national digital network business. 
The company employs 3,700 people working in every Scottish community to keep people, schools, shops, banks, hospitals, mobile phone masts, businesses and more connected to the world. They go the extra mile and take on any challenge to build a better, faster and more affordable network that helps people stay connected. 
Openreach's mission is to build the best possible network with the highest quality service. The UK's biggest broadband network passes 31.8m premises, and more than 665 service providers use it to connect their customers. 
Today Openreach is building a new ultra-fast, ultra-reliable broadband network which will be Scotland's digital platform for decades to come, and 670,000 Scottish properties can already upgrade. 
For more information on Openreach, visit: Openreach | Connecting you to your network