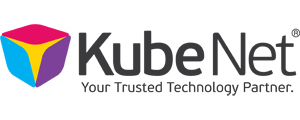 KubeNet
The Glasgow Business Award for Innovation in Business
With digital transformation, rapidly changing technology and increasing cyber threats, keeping your business agile and protected is time-consuming and costly. As a leading Managed Service Provider, KubeNet becomes an extension of your team, taking the complexity out of IT support and offering a flexible service across your IT and network infrastructure, saving you time and money to focus on your core business. 
Accessing cloud apps, making phone calls, internet speeds, a stable network and keeping you protected from cyber-attacks are all key for today's business. We work in partnership to enable your business to perform efficiently, collaboratively, and securely from the office or remotely. 
Our portfolio of clients spans from SMEs to large enterprise so you can guarantee that no matter the size of your business, KubeNet is your trusted technology partner. 
All of this is supported by our talented engineers and customer service team to ensure that your technology is an asset - not a headache.
For more information on KubeNet, visit their website.