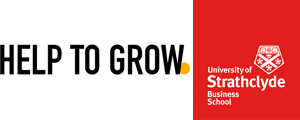 Help to Grow: Management at Strathclyde Business School
The Glasgow Business Award for Family Business of the Year
Triple accredited Strathclyde Business School has been delivering Help to Grow: Management since last year and so far, 120 companies have graduated.
Announced in the 2021 Budget, and 90% funded by UK government, this practical management training delivered by world-class business schools across the UK.
Aimed at  leaders and senior decision makers of SMEs  to boost performance, resilience, and long- term growth, the in-depth high-quality curriculum offers the opportunity to build capabilities in leadership, innovation, digital adoption, employee engagement, marketing, responsible  business, and financial management.
By the end, participants have developed a business growth plan, created connections and widened their networks. The course is delivered over 12 half days at Strathclyde Business School at a heavily subsidised cost of £750, for a business leader who meets the criteria of having 5 or more employees, and is established for more than 1 year.
Two places are available for organisations with 10 or more employees.
Feedback has been incredible, places are competitive.
For more information on Help to Grow: Management at Strathclyde Business School, visit: Help to Grow Management | University of Strathclyde or E: sbs-helptogrow@strath.ac.uk