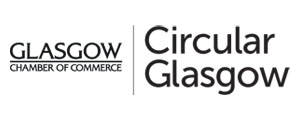 Circular Glasgow
The Glasgow Business Award for Innovation in Business
Circular Glasgow, a Glasgow Chamber of Commerce initiative, aims to position itself as a leading circular city by encouraging organisations to adopt innovation, design and circular thinking. Collaborating with global circular economy experts, Circular Glasgow has the knowledge and experience to help your business achieve financial and competitive advantage while contributing towards the city's net-zero ambitions.
Circular Glasgow's business engagement programme is in partnership with Zero Waste Scotland and funded through European Regional Development Fund.
Through a circular economy we make effective use of the resources we already have. It's a holistic solution to the world's emerging resource problem that has resulted from a linear take-make-waste economy. In a circular economy, resources are not discarded, but recovered in a system that is continuous and long-lasting, with the goal of keeping them functioning at their highest potential.
5 ways to be circular 

For more information on Circular Glasgow, visit: www.circularglasgow.com